---
HIGHLIGH
[Unidirectional Pick-Up Pattern for Noise Isolation] – Cubilux Unidirectional (Cardioid) Type C lapel microphone picks up sound from the top direction and blocks ambient noise to provide clean audio content with more quality sound.

[Built-In ADC] – The built-in 48KHz/24-bit ADC ensures high-fidelity recording, resulting in a professional-grade sound with accurate detail and dynamic range.

[Clear & Natural Sound] – Made with a high-sensitivity condenser, the Type C Microphone delivers a crystal-clean natural sound with ultra-low noise.

[Multipurpose MIC] - Ideal for recording YouTube, TikTok, or Instagram videos, vlogging, livestreaming, singing, dictation etc.

[Universal Compatibility] - Support Android, iPad OS, Mac OS, Windows, Linux. Compatible with iPhone 15/15+/15 Pro Max (USB C version), iPad Pro (USB C version), iPad Air 5/4, iPad 10; Samsung Galaxy S23/S22/S21/S20, Z Fold 5/4/3/2, Z Flip 5/4/3/2, Tab S9/S8/S7; Google Pixel 8/7/6 Pro; Motorola Razr 40, Edge 40/30/20; Huawei, Honor, Redmi, Oppo, Vivo and most laptops, computers, tablets and smartphones with USB Type C or Thunderbolt 4/3 ports.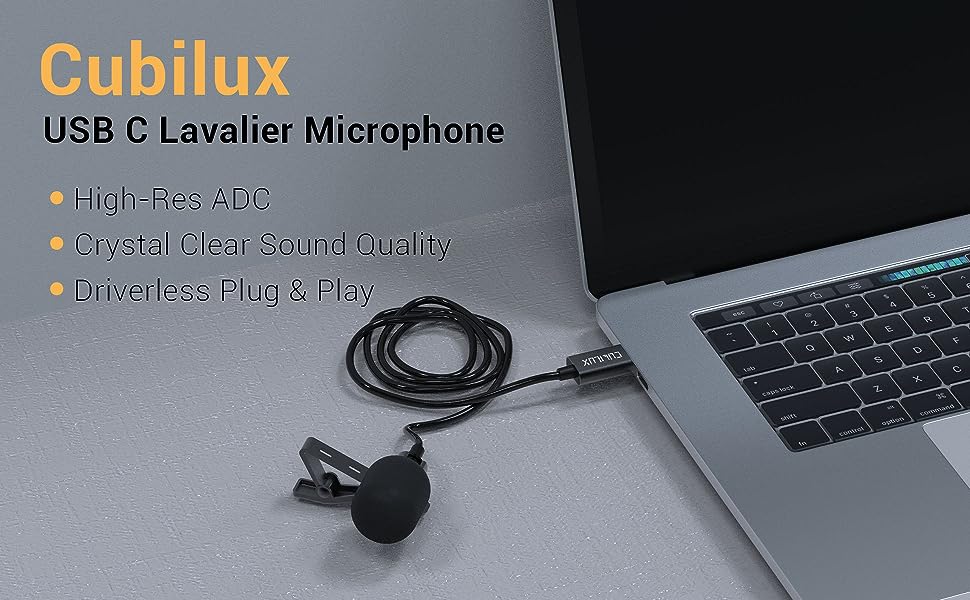 Cubilux USB C Unidirectional Lavalier Microphone
Cubilux USB C Unidirectional Lapel Microphone is plug and play on most Type C(Thunderbolt 4/3 compatible) smartphones, tablets, laptops or computers.
Using unidirectional Pickup Pattern, the microphone captures primary sound from top direction and isolate unwanted background noise from other sides to give you a more quality audio source for interview, singing, livestreaming or podcasting.
And the built-in Hi-Res ADC and High-Sensitive MIC unit ensures a loud and clear sound without distortion or white noise.
Plug and play on USB C/Thunderbolt 4/3 smartphones, tablets or laptops

48Khz/16-bit Hi-res ADC to eliminate noise and distortion

High- Sensitivity microphone unit to record loud and clear sound

Unidirectional pickup mode to Isolated unsought sound

Collar clip design for handsfree talking
Note:
This microphone is not compatible with any action camera such as GoPro Hero, Insta 360 One R X2 etc.

The microphone supports Samsung Galaxy

 

S22/S22+/S22 Ultra

 

for

 

VOICE

 

and

 

VIDEO RECORDING

,

 

NOT

 

for

 

CALLING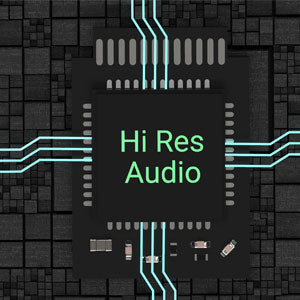 Hi-Res ADC Chip
Built-in 48 KHz/16-bit ADC reduces distortion and noise to capture crystal and clean sound for vlogs, interviews and podcast.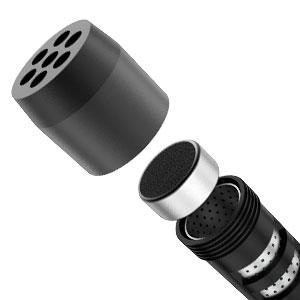 High- Sensitivity ECM Unit
High-Sensitivity MIC Unit picks up sound with decent volume, ideal for replacing the built-in microphone of your devices for on-line meeting.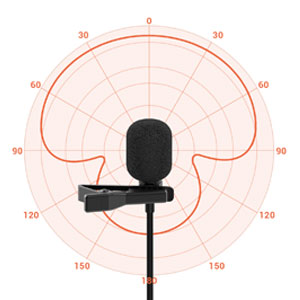 Unidirectional Pickup Pattern
The microphone captures sound from top direction and blocks unsought ambient noise from other sides, ideal for vocal recording, interviewing, singing, livestreaming, dictation etc.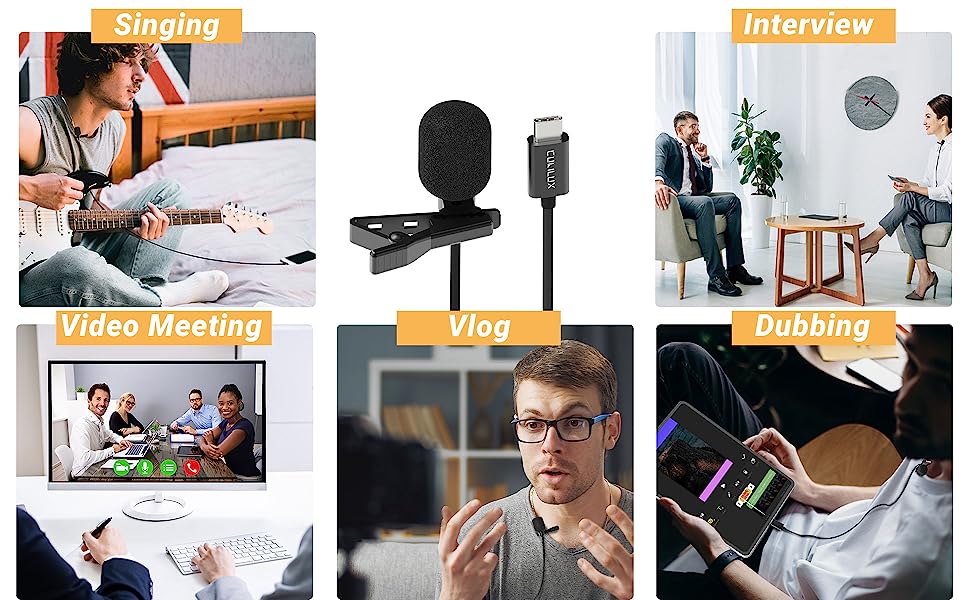 Multi-Purpose
Video Recording

: Compatible with "Google Camera", "Open Camera" or iPad OS default camera, or any other camera app that support external microphone.

On-line Meeting

: Compatible with "Zoom", "Discord", "Google Meet", "Microsoft Team" or any other telecommuting app that supports external microphone.

Livestreaming

: Support live stream on "Facebook", "Instagram" etc.

Voiceover

: Support video editor like "InShot" etc.
Omnidirectional VS Unidirectional
Please Note:
This is an

 

Unidirectional

 

microphone, it records sound from the top of direction so as to remove unwanted background noise. This microphone is ideal for recording vocal, outdoor interview, on-line meeting in a noisy room etc.
If you need to record ambient sound, please choose our

 

Omnidirectional

 

microphones.
Compatible with
iPhone

 

15 Pro Max・15 Pro・15/15+

iPad

 

2022 iPad 10.9"(Gen 10th)・2022/2021/2020/2018 iPad Pro 12.9"(Gen 6th/5th/4th/3rd)・2022/2021/2020/2018 iPad Pro 11 (Gen 4th/3rd/2nd/1st)・2022/2020 iPad Air(Gen 5th/4th)・2021 iPad Mini(Gen 6)
Mac

 

MacBook Air 13"(All Version)・MacBook Pro 13"/14"/15"/16"(All Version)・MacMini (All Version)・iMac 21.5"/24"/27"・iMac Pro 27"・Mac Pro・Mac Studio

Samsung Galaxy Phone

 

S23/S22/S21/S20 Ultra・S23/S23+/S22/S22+/S21/S21+/S20/S20+・S23/S21/S20 FE・Z Fold 5/4/3/2/1・Z Flip 5/4/3/2/1・Note 20/10

Samsung Galaxy Tab

 

S9/S8 Ultra・S9/S9+/S8/S8+/S7/S7+/S6・S9/S7 FE・S5e

Google

 

Pixel 8/7/6 Pro・Pixel 8/7/6/5/4/3/2/1・Pixel 7a/6a・Pixel Fold・Pixel Tablet・Pixel 4/3/2/1 XL

Motorola(Moto)

 

Razr 40 Ultra・Razr 40・Edge 40/20 Pro・Edge 40/30/20・Edge 30 Ultra・Edge 30 Fusion・Edge 30 Neo・Z3 Play・Z3・Z2 Force・Z Force (Droid)・Z (Droid)

Oppo

 

Reno 10/9/8/7/6/5/4 Pro・Reno 10/9/8/4・Find X6/X5/X3 Pro・Find X6/X5/X3・ Find N3/N2 Flip・Reno 9/8/6/5 Pro+

Xiaomi

 

13T/13/12T/12S/12/11X/11/10/9 Pro・13T/12T/13/12S/12X/12/11X・Mix Fold 3/2/1・13/12S/11/10 Ultra・13/12/11 Lite/10
Redmi

 

K60/K50 Ultra・K60/50/K40 Pro・K60/K50/K40・K40 Pro+・K50/K40 Gaming

Nothing Phone

 

(2)・(1)

Vivo

 

iQOO 11S・iQOO Neo 8/7 Pro・iQOO Neo 8/7/6・X Fold 2/1・X Flip・iQOO 11/10/9/8 Pro・iQOO 11/10/9/8・X90S/X90/X80/X70・X90/X80/X70 Pro+・X90/X80/X70 Pro

Huawei Phone

 

Mate 60/40 Pro+・Mate 60/50/40 Pro・Mate 60/X5/X3/50/X2・Nova 11 Ultra・Nova 11/10/9/8/7 Pro・Nova 11/10/9/8/7・P60/P50 Pro・P60/P50・Nova 10/9/8 SE

Huawei

 

MatePad

 

MatePad Pro 13.2・MatePad 11.5・MatePad Air・ 2023/2021 MatePad 11・2022 MatePad Pro 11・2022 MatePad 10.4・2021 MatePad Pro 12.6・2021 MatePad Pro 10.8

Honor

 

Magic V2/VS・90/80/70/60/50 Pro・90/80/70/60/50・90 Lite・Magic 5/4/3 Pro・Magic 5/4/3・Magic 5 Lite・80/50 SE・70 Pro+・Magic3 Pro+
and more...