---
HIGHLIGHT
[Headphone Sharing Adapter for USB C Devices] – The adapter splits the USB Type C port into 2 headphone jacks and allows you to share music, movies or games with your friend by connecting 2 pairs of headphones without disturbing others, e.g., when traveling by airplane.

[Superior Audio Performance] -The built-in digital-to-analog converter supports maximum 96KHz/24-bit sampling rate and delivers a clean, clear sound with ultra-low distortion and noise. And the oxygen-free copper wire minimizes signal transmission loss and maximizes the intensity of high-resolution sound.

[Support In-Line Remote Control] – The headset jack(on the left side with the MIC icon) allows you to effortlessly adjust volume with headphones' in-line control and the headphone jack(on the right side without the MIC icon) is just for listening only.

[Compatible with TRRS MIC] – The adapter is also ideal for working from home with its various compatibility for most on-line conference APPs such as "Zoom", "Skype", "Google Meet" and "FaceTime". Simply plug in a 3.5mm TRRS microphone and headphones and you can have better audio quality for your meeting. You can use the adapter for your live stream too.

[Universal Compatibility] - Support Android, iPad OS, Mac OS, Windows, Linux. Compatible with iPhone 15/15+/15 Pro Max (USB C version), iPad Pro (USB C version), iPad Air 5/4, iPad 10; Samsung Galaxy S23/S22/S21/S20, Z Fold 5/4/3/2, Z Flip 5/4/3/2, Tab S9/S8/S7; Google Pixel 8/7/6 Pro; Motorola Razr 40, Edge 40/30/20; Huawei, Honor, Xiaomi, Redmi, Oppo, Vivo and most laptops, computers, tablets and smartphones with USB Type C or Thunderbolt 4/3 ports.
Cubilux USB C Dual 3.5mm Jakcs Headphone Adapter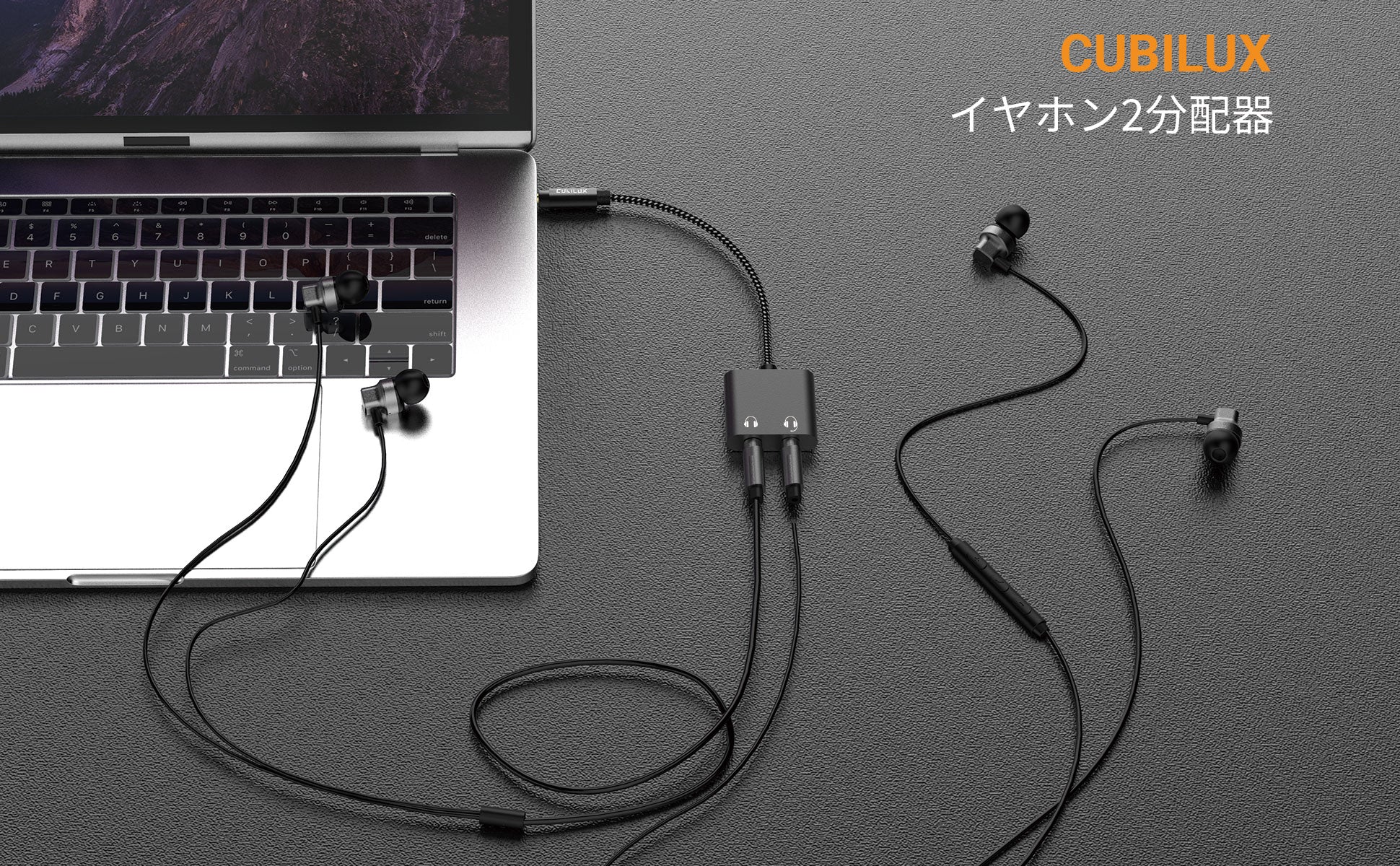 Built-in 96 KHz/24-bit Hi-Res DAC for Optimal Sound Quality

Built-in 48 KHz/16-bit ADC for Crystal Clear Recording Quality

Compatible with 3.5mm TRRS Microphone

Support Real-Time Playback Monitoring

Gold-Plated Connector and OFC Wire for Best Audio Performance

Support In-Line Volume Control

Braided Cable and Aluminum Alloy Case for Durability

Compact Size for Easy Carry

 
Important Note:
Please message us via amaozn if you need help,i will help you to solve it at any time.

The adapter does

 

NOT

 

work with GoPro Hero, DJI OSMO Pocket or any other action camera or DSLR.
The adapter supports Samsung Galaxy

 

S23/S22

,

 

Z Fold 4

 

or

 

Z Flip 4

 

for

 

VOICE

 

and

 

VIDEO RECORDING

,

 

NOT

 

for

 

CALLING
Easy to Sharing Audio & Video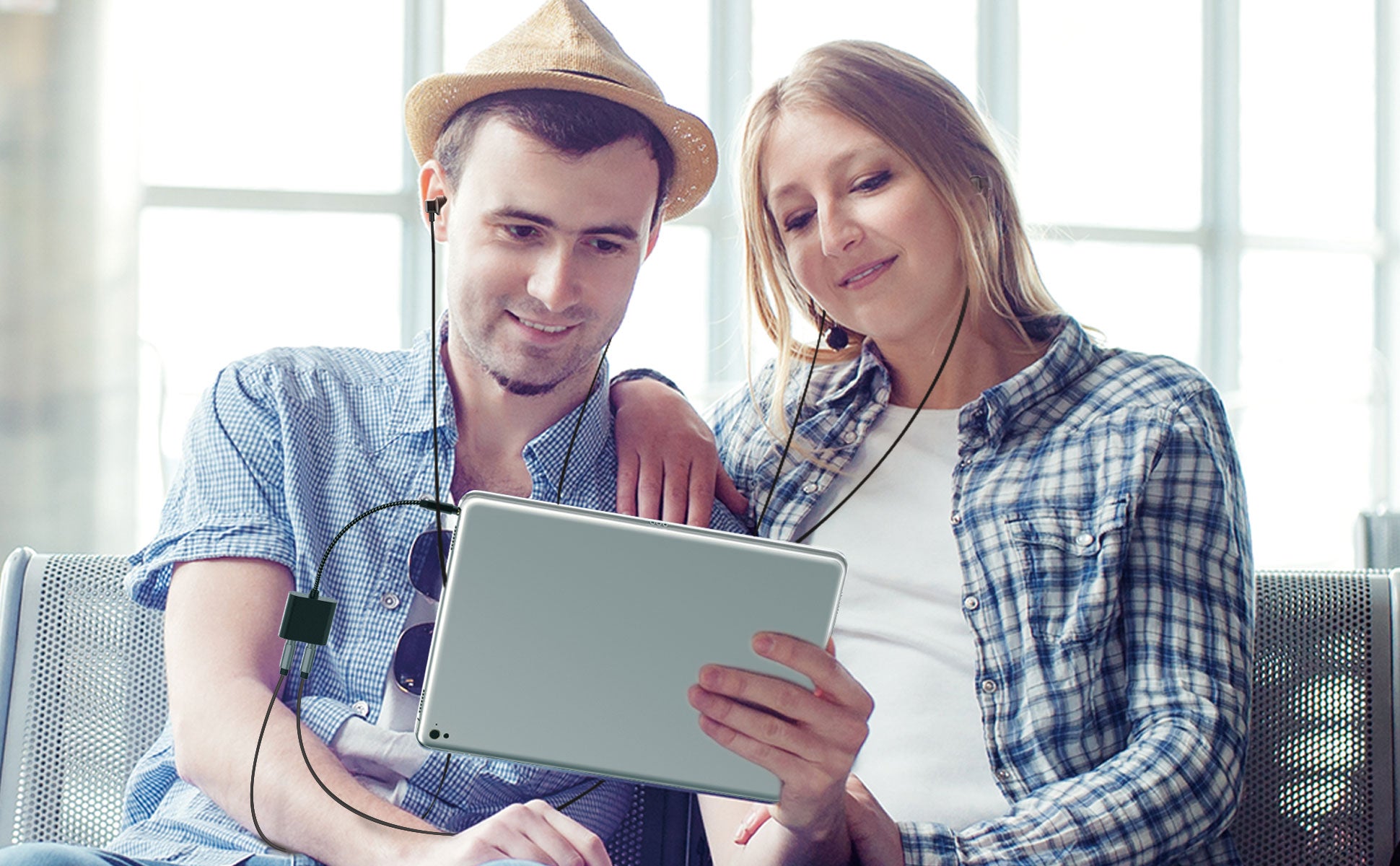 The adapter offers an easy solution to share music and movies with your friend and family member without bothering people around during flight or train.
Ideal for On-Line Conference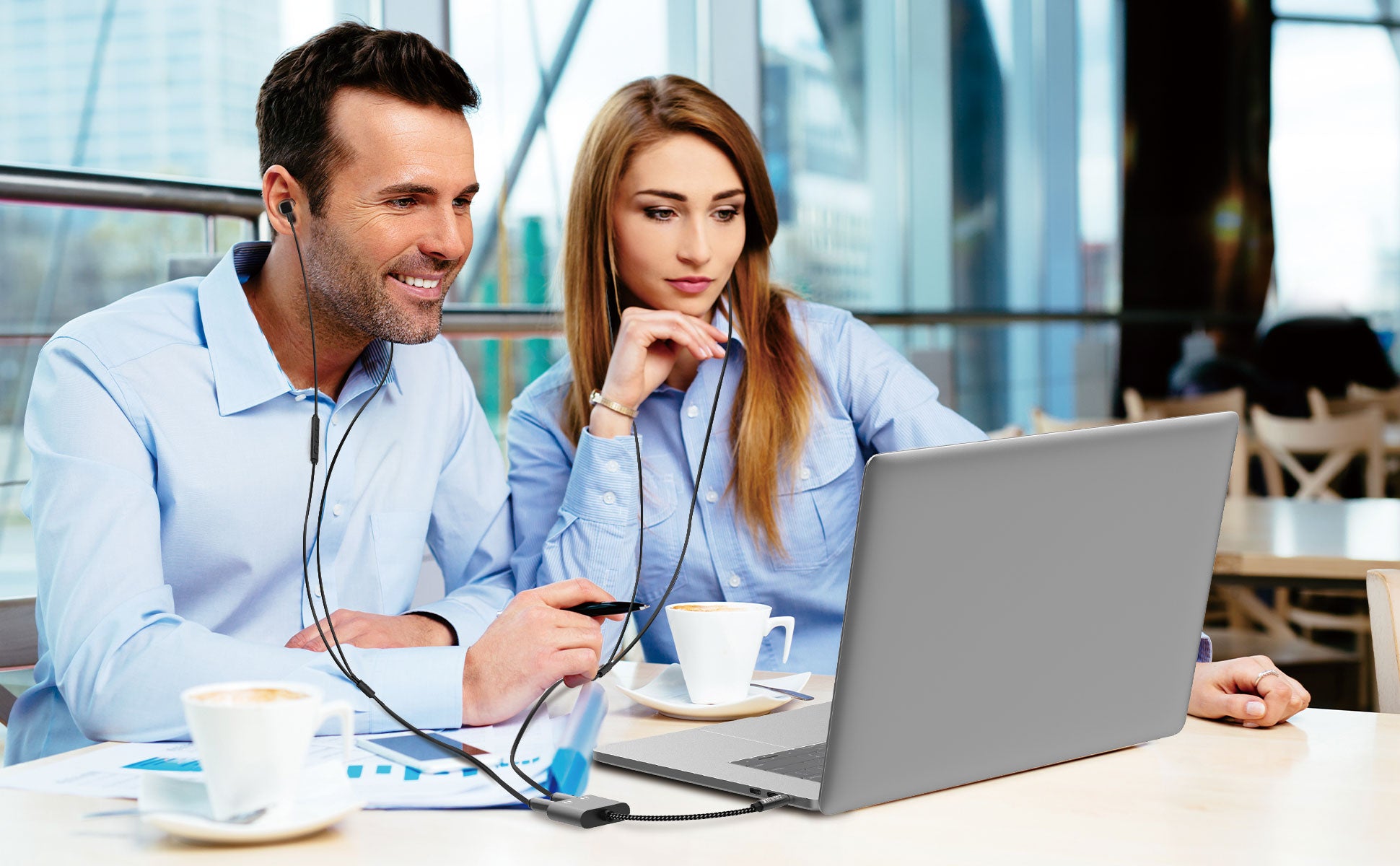 Featuring a headset jack for talking and hearing and a headphone jack for listening only, the adapter is ideal for co-working during on-line meetings or class.
Monitor Real-Time Playback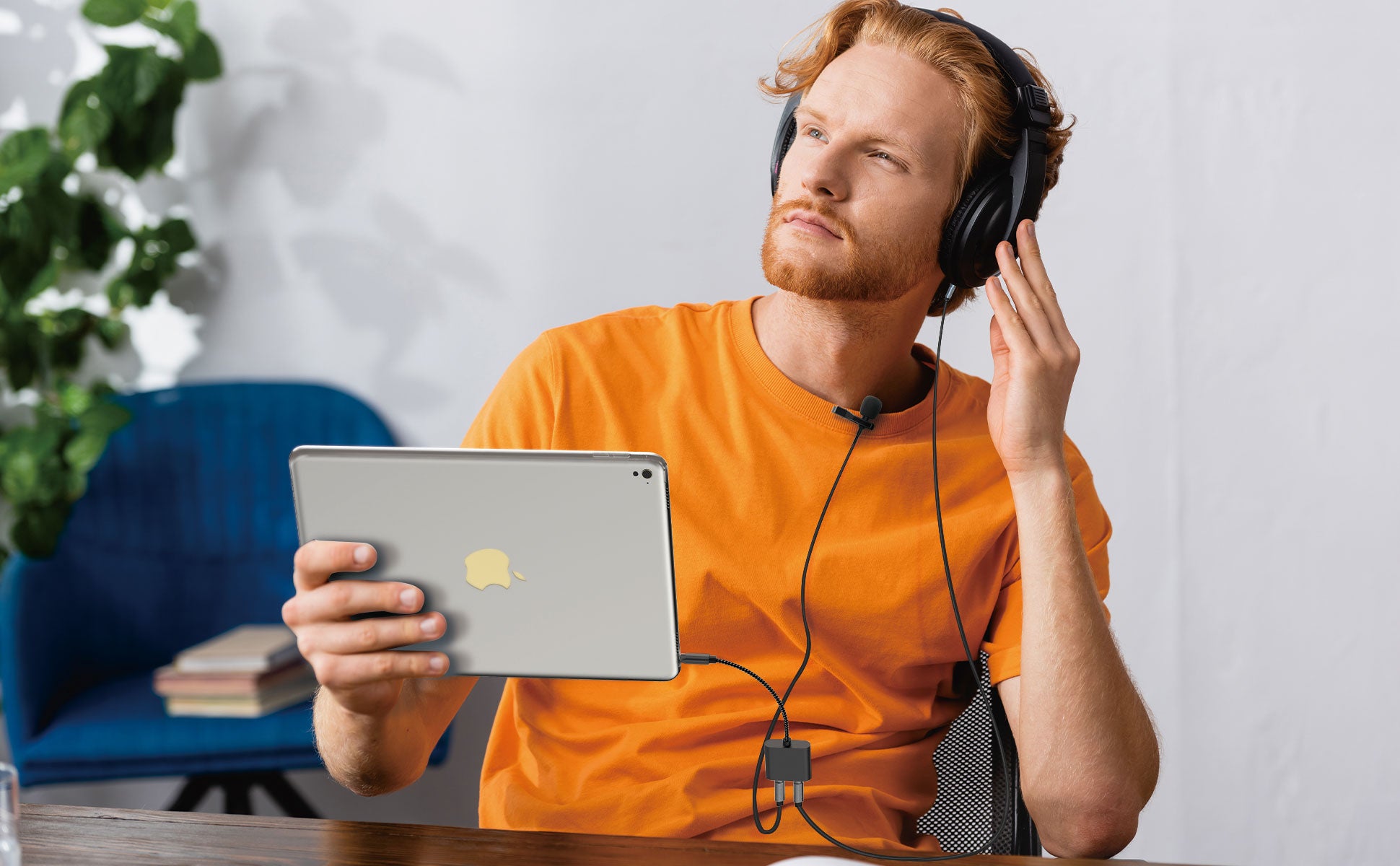 The headset jack of the adapter is compatible with 4-pole TRRS 3.5mm lavalier microphone, which make it perfect for recording. You can even monitor real-time playback with professional recording Apps such as "GarageBand"(iOS) or "BandLab"(Android).
Please Note:
You may not be able to monitor real-time playback while recording videos since most camera app does

 

NOT

 

support monitor function.
Headset Jack:
Plug in TRS Connector - Audio-Output Only

Support earphones and headphones.

Plug in TRRS Connector - Audio-Output & Microphone Input

Support earphones and headphones with in-line microphone & volume control.

Support TRRS microphone(NOT

 

for microphones that require phantom power supply).
Headphone Jack:
Plug in TRS Connector - Audio-Output Only

Support earphones and headphones.

Plug in TRRS Connector - Audio-Output Only

Support earphones and headphones.
Compatible with
iPhone

 

15 Pro Max・15 Pro・15/15+

iPad

 

2022 iPad 10.9"(Gen 10th)・2022/2021/2020/2018 iPad Pro 12.9"(Gen 6th/5th/4th/3rd)・2022/2021/2020/2018 iPad Pro 11 (Gen 4th/3rd/2nd/1st)・2022/2020 iPad Air(Gen 5th/4th)・2021 iPad Mini(Gen 6)
Mac

 

MacBook Air 13"(All Version)・MacBook Pro 13"/14"/15"/16"(All Version)・MacMini (All Version)・iMac 21.5"/24"/27"・iMac Pro 27"・Mac Pro・Mac Studio

Samsung Galaxy Phone

 

S23/S22/S21/S20 Ultra・S23/S23+/S22/S22+/S21/S21+/S20/S20+・S23/S21/S20 FE・Z Fold 5/4/3/2/1・Z Flip 5/4/3/2/1・Note 20/10

Samsung Galaxy Tab

 

S9/S8 Ultra・S9/S9+/S8/S8+/S7/S7+/S6・S9/S7 FE・S5e

Google

 

Pixel 8/7/6 Pro・Pixel 8/7/6/5/4/3/2/1・Pixel 7a/6a・Pixel Fold・Pixel Tablet・Pixel 4/3/2/1 XL

Motorola(Moto)

 

Razr 40 Ultra・Razr 40・Edge 40/20 Pro・Edge 40/30/20・Edge 30 Ultra・Edge 30 Fusion・Edge 30 Neo・Z3 Play・Z3・Z2 Force・Z Force (Droid)・Z (Droid)

Oppo

 

Reno 10/9/8/7/6/5/4 Pro・Reno 10/9/8/4・Find X6/X5/X3 Pro・Find X6/X5/X3・ Find N3/N2 Flip・Reno 9/8/6/5 Pro+

Xiaomi

 

13T/13/12T/12S/12/11X/11/10/9 Pro・13T/12T/13/12S/12X/12/11X・Mix Fold 3/2/1・13/12S/11/10 Ultra・13/12/11 Lite/10
Redmi

 

K60/K50 Ultra・K60/50/K40 Pro・K60/K50/K40・K40 Pro+・K50/K40 Gaming

Nothing Phone

 

(2)・(1)

Vivo

 

iQOO 11S・iQOO Neo 8/7 Pro・iQOO Neo 8/7/6・X Fold 2/1・X Flip・iQOO 11/10/9/8 Pro・iQOO 11/10/9/8・X90S/X90/X80/X70・X90/X80/X70 Pro+・X90/X80/X70 Pro

Huawei Phone

 

Mate 60/40 Pro+・Mate 60/50/40 Pro・Mate 60/X5/X3/50/X2・Nova 11 Ultra・Nova 11/10/9/8/7 Pro・Nova 11/10/9/8/7・P60/P50 Pro・P60/P50・Nova 10/9/8 SE

Huawei

 

MatePad

 

MatePad Pro 13.2・MatePad 11.5・MatePad Air・ 2023/2021 MatePad 11・2022 MatePad Pro 11・2022 MatePad 10.4・2021 MatePad Pro 12.6・2021 MatePad Pro 10.8

Honor

 

Magic V2/VS・90/80/70/60/50 Pro・90/80/70/60/50・90 Lite・Magic 5/4/3 Pro・Magic 5/4/3・Magic 5 Lite・80/50 SE・70 Pro+・Magic3 Pro+
and more...