---
HIGHLIGHT
[USB C Headphone & Microphone Adapter] – Cubilux Audio & MIC splitter enables recording with 3.5mm microphone on USB C devices. At the same time, it allows you to listen to your performance through headphones connected to the audio jack.

[Not for Powered Microphone] – Please note that the adapter is not compatible with microphones that require a phantom power supply.

[Compatible with Older Headsets] - The adapter is also suitable for most of the legacy headsets featuring separated headphone and microphone connectors, so you can use them with the latest USB C devices for zoom meetings, online lecturing, and so on.

[Hi Res DAC] - The built-in digital-to-analog converter delivers clean, lossless sound up to 96 KHz/24 bits to bring you an immersive listening experience with all the depth and details. While the ADC path allows you to record crystal clear sound up to 48 KHz/16-bit.

[Universal Compatibility] - Support Android, iPad OS, Mac OS, Windows, Linux. Compatible with iPhone 15/15+/15 Pro Max (USB C version), iPad Pro (USB C version), iPad Air 5/4, iPad 10; Samsung Galaxy S23/S22/S21/S20, Z Fold 5/4/3/2, Z Flip 5/4/3/2, Tab S9/S8/S7; Google Pixel 8/7/6 Pro; Motorola Razr 40, Edge 40/30/20; Huawei, Honor, Xiaomi, Redmi, Oppo, Vivo and most laptops, computers, tablets and smartphones with USB Type C or Thunderbolt 4/3 ports.
Cubilux USB C Headphone & Microphone Adapter
Built-in 96 KHz/24-bit Hi-Res DAC for Optimal Sound Quality

Built-in 48 KHz/16-bit ADC for Crystal Clear Recording Quality

Oxygen Free Copper Wires for Lossless Audio Signal Transmission

Fit for Legacy Headset with Separated Headphone and Microphone Plugs

Ideal for On-line Meeting and Lecturing

Easy to Storage and Carry with Compact Design

Aluminum Alloy Case and Braided Cable for Durability
Please Note:
The adapter supports Samsung Galaxy

 

S23/S22

,

 

Z Fold 4

 

or

 

Z Flip 4

 

for

 

VOICE

 

and

 

VIDEO RECORDING

,

 

NOT

 

for

 

CALLING

Microphone recording

 

doesn't

 

support

 

stereo
Ideal for On-Line Meeting and Lecturing
With built-in DAC and ADC chipset, the adapter can improve the sound quality for your on-line conference. Compatible with most APPs such as "Zoom", "Skype", "Face Time" and "Google Meet" etc.. You can use the adapter for live streaming on "FaceBook" or "Instagram" or talking with your friend with "Discord" during gaming too!
Monitor Real Time Playback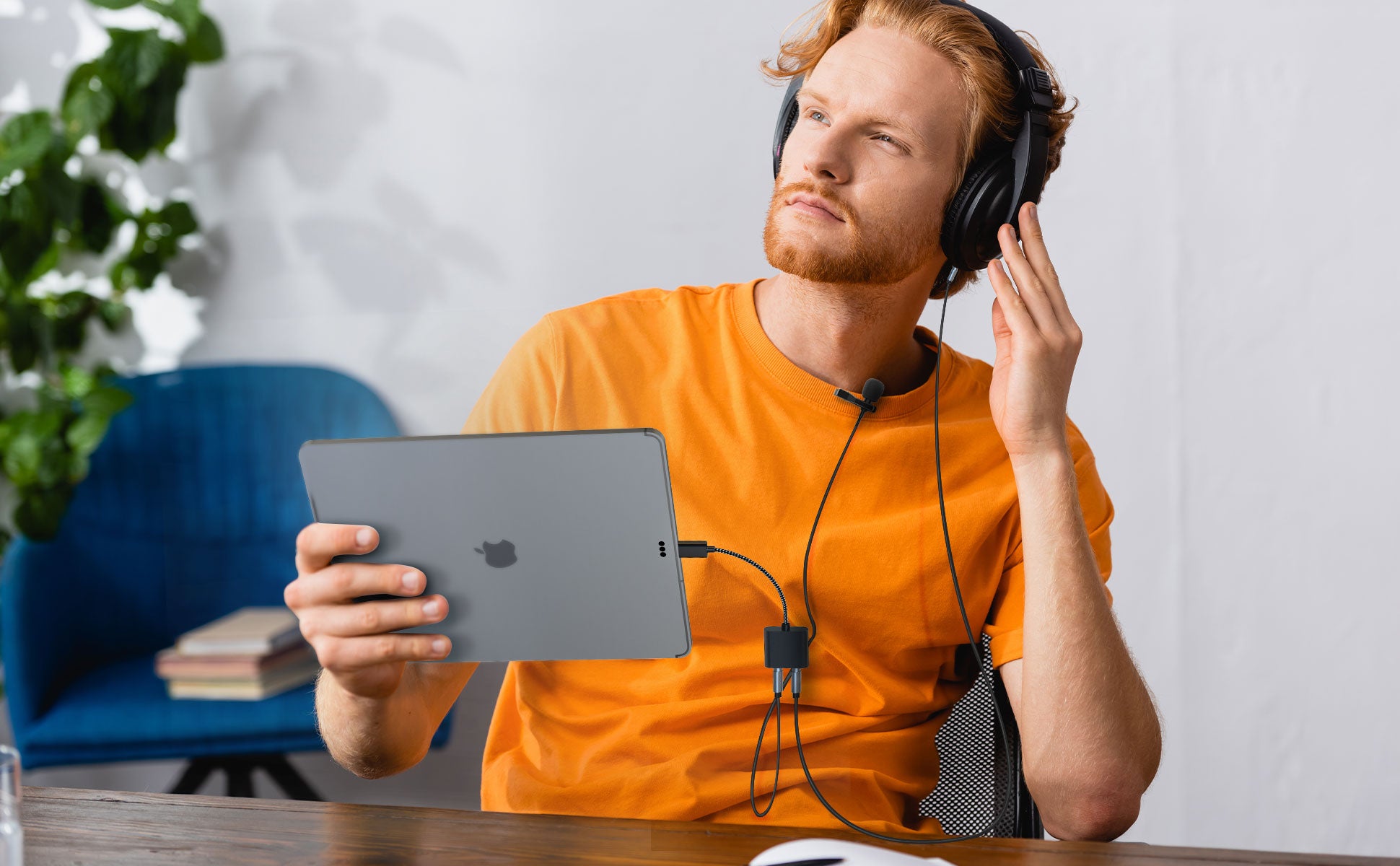 You may as well record professional audio contents for your podcast or vlog with USB C device and then hear your performance with headphones. You can even monitor real-time play back with professional recording APPs such as "GarageBand"(iOS) and "BandLab"(Android).
Please keep that in mind that you may be not able to monitor real-time playback while recording videos since most camera app does not support monitor function.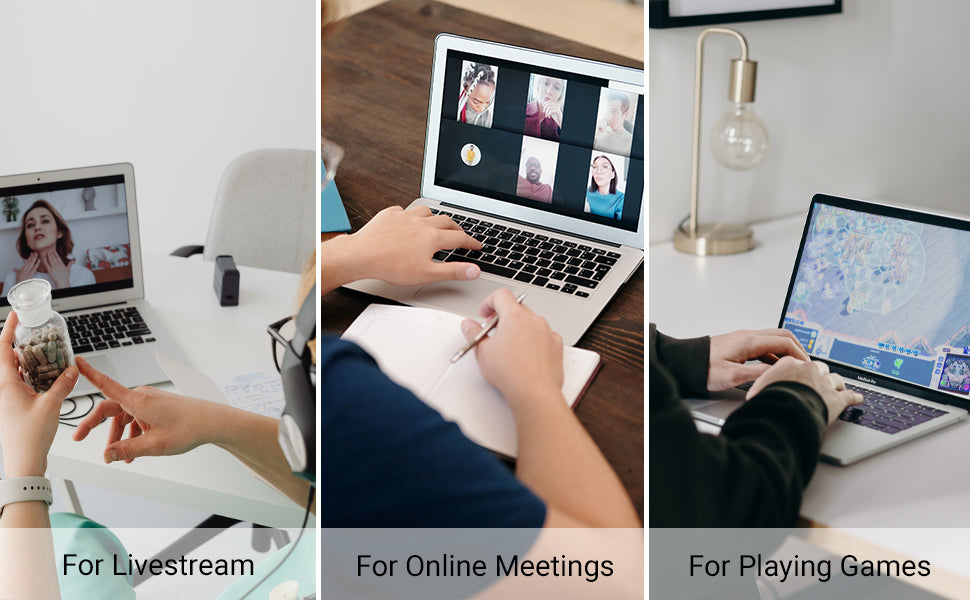 Specifications
Connection Type: USB Type C(Thunderbolt 3) to 3.5mm Audio Output and 3.5mm Microphone Input

Length: 4.7 inches

Sampling Rate: 96 KHz/24-bit(DAC); 48 KHz/16-bit(ADC)

Material: Aluminum Alloy, Nylon Braided Cable
!!! IMPORTANT NOTE:
The adapter is

 

ONLY

 

for

 

TRS

 

or

 

TRRS

 

(with converter) lavalier microphone and does

 

NOT

 

support

 

Condenser MIC

,

 

Dynamic MIC, XLR MIC

 

or any MIC that requires

 

Phantom Power Supply

.
The adapter does

 

NOT

 

support line-level audio input.
The adapter does

 

NOT

 

work with GoPro Hero, DJI OSMO Pocket or any other action camera or DSLR.
Compatible with
iPhone

 

15 Pro Max・15 Pro・15/15+

iPad

 

2022 iPad 10.9"(Gen 10th)・2022/2021/2020/2018 iPad Pro 12.9"(Gen 6th/5th/4th/3rd)・2022/2021/2020/2018 iPad Pro 11 (Gen 4th/3rd/2nd/1st)・2022/2020 iPad Air(Gen 5th/4th)・2021 iPad Mini(Gen 6)
Mac

 

MacBook Air 13"(All Version)・MacBook Pro 13"/14"/15"/16"(All Version)・MacMini (All Version)・iMac 21.5"/24"/27"・iMac Pro 27"・Mac Pro・Mac Studio

Samsung Galaxy Phone

 

S23/S22/S21/S20 Ultra・S23/S23+/S22/S22+/S21/S21+/S20/S20+・S23/S21/S20 FE・Z Fold 5/4/3/2/1・Z Flip 5/4/3/2/1・Note 20/10

Samsung Galaxy Tab

 

S9/S8 Ultra・S9/S9+/S8/S8+/S7/S7+/S6・S9/S7 FE・S5e

Google

 

Pixel 8/7/6 Pro・Pixel 8/7/6/5/4/3/2/1・Pixel 7a/6a・Pixel Fold・Pixel Tablet・Pixel 4/3/2/1 XL

Motorola(Moto)

 

Razr 40 Ultra・Razr 40・Edge 40/20 Pro・Edge 40/30/20・Edge 30 Ultra・Edge 30 Fusion・Edge 30 Neo・Z3 Play・Z3・Z2 Force・Z Force (Droid)・Z (Droid)

Oppo

 

Reno 10/9/8/7/6/5/4 Pro・Reno 10/9/8/4・Find X6/X5/X3 Pro・Find X6/X5/X3・ Find N3/N2 Flip・Reno 9/8/6/5 Pro+

Xiaomi

 

13T/13/12T/12S/12/11X/11/10/9 Pro・13T/12T/13/12S/12X/12/11X・Mix Fold 3/2/1・13/12S/11/10 Ultra・13/12/11 Lite/10
Redmi

 

K60/K50 Ultra・K60/50/K40 Pro・K60/K50/K40・K40 Pro+・K50/K40 Gaming

Nothing Phone

 

(2)・(1)

Vivo

 

iQOO 11S・iQOO Neo 8/7 Pro・iQOO Neo 8/7/6・X Fold 2/1・X Flip・iQOO 11/10/9/8 Pro・iQOO 11/10/9/8・X90S/X90/X80/X70・X90/X80/X70 Pro+・X90/X80/X70 Pro

Huawei Phone

 

Mate 60/40 Pro+・Mate 60/50/40 Pro・Mate 60/X5/X3/50/X2・Nova 11 Ultra・Nova 11/10/9/8/7 Pro・Nova 11/10/9/8/7・P60/P50 Pro・P60/P50・Nova 10/9/8 SE

Huawei

 

MatePad

 

MatePad Pro 13.2・MatePad 11.5・MatePad Air・ 2023/2021 MatePad 11・2022 MatePad Pro 11・2022 MatePad 10.4・2021 MatePad Pro 12.6・2021 MatePad Pro 10.8

Honor

 

Magic V2/VS・90/80/70/60/50 Pro・90/80/70/60/50・90 Lite・Magic 5/4/3 Pro・Magic 5/4/3・Magic 5 Lite・80/50 SE・70 Pro+・Magic3 Pro+
and more...