---
HIGHLIGHT
[Plug and play] - A single cable that connects various USB C devices directly to your home stereo system, which gives you the convenience to play Hi-Res audio stream from Spotify, iTunes, Google Play Music, etc.

[Premium Audio Quality] - Built-in DAC supports up to 96KHz/24-bit audio stream and cancels out all the noise to represent crystal clear stereo sound for professional or home audio environments.

[Minimize Signal Loss] - Made with Oxygen-free copper wire and 24K gold-plated connectors, the cable eliminates EMI or RFI interference to provide a better music experience.

[Built to Last] - Built with Full Aluminum housing and flexible tangle-free braided cable for a longer lifespan. 24K gold-plating prevents the connectors from corrosion or rusting.

[Universal Compatibility] - Support Android, iPad OS, Mac OS, Windows, Linux. Compatible with laptops, computers, tablets and smartphones with USB C jack such as iPad 10, iPad Pro, iPad Air 5/4, iPad Mini 6; Samsung Galaxy S23/S22/S21/S20 Ultra, Z Fold/Flip 4/3/2, Note 20/10, Tab S8/S7/S6; Google Pixel 7/6 Pro 6a 6 Pro 5/4/3/2 XL; Moto Edge 30 Ultra Pro X30 S30 Z3 Play, Z2 Force, Osmo Action 4, Huawei, Zenfone, HTC, Oppo, Vivo and more.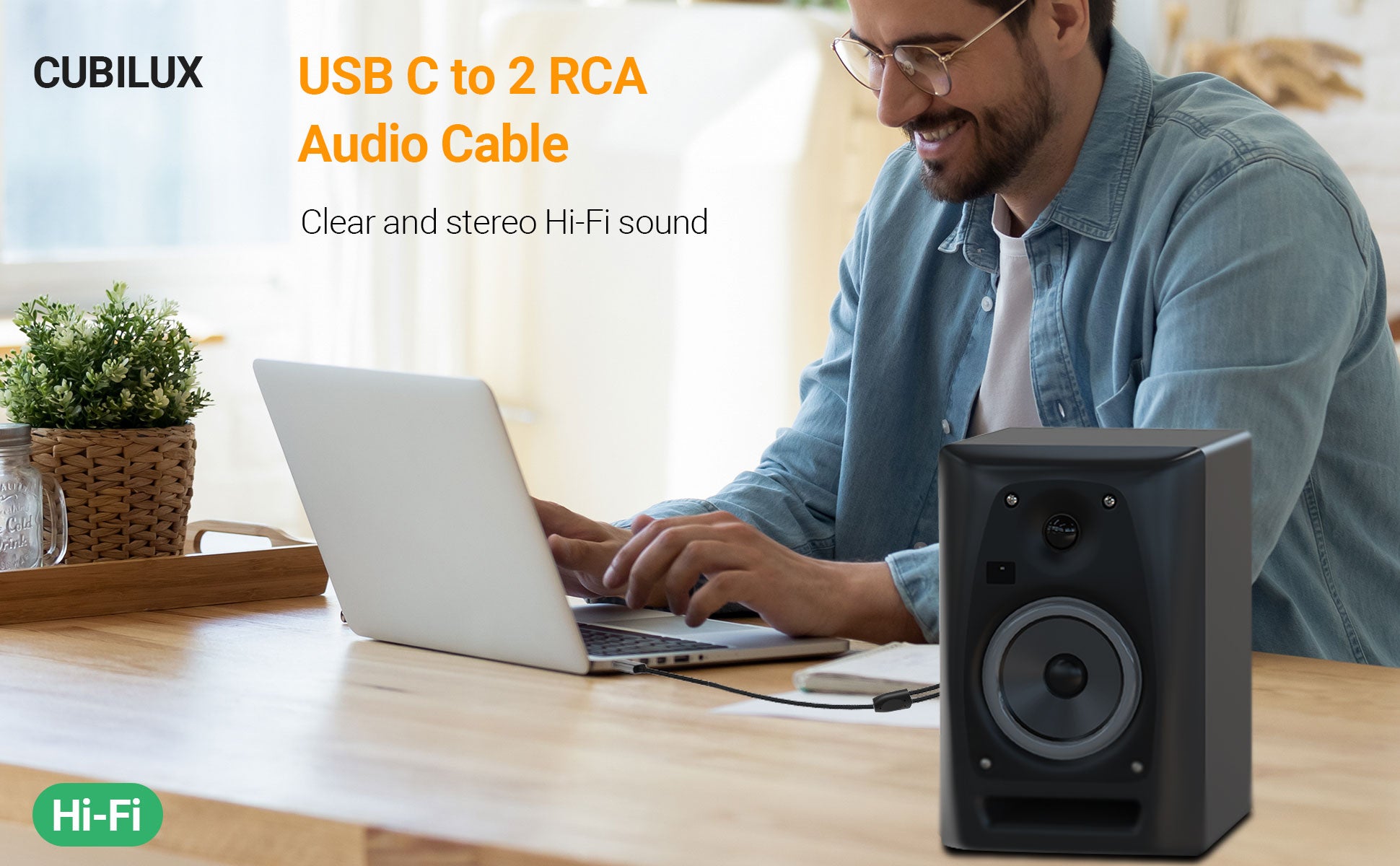 USB C to 2 x RCA Cable connect perfectly for smartphones, Tablet to Stereo Receiver, Speaker, Amplifier, Car and other RCA-enabled devices.
THE CUBILUX DIFFERENCE
USB C to dual RCA cable

Hi-Res DAC

Superior Audio Quality

HD Stereo Surround

Solid Aluminum Shell & Flexible Cable

The USB C male connector is intended for
New iPad, tablets, laptops, MacBook Pro, Notebook, Speaker,and other audio-playing

Smartphones, Samsung Galaxy S20/S10/Note 20/Note 10, Sony Xperia 5/10 II, Moto Z3/Z2 Play, Huawei, Xiaomi and devices with USB C port.
The 2 male RCA connectors are intended for
Stereo receivers or speakers, turntable, VCR, DVD player, TV, Video Camera, AV receiver, amplifier, projector, home theater, HDTV Video Camera, VCR, or other equipment with legacy RCA connectors.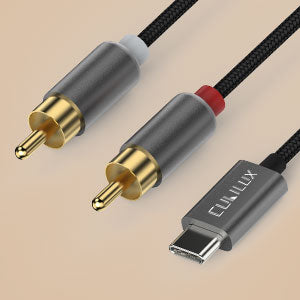 Gold-plated plug
The Cubilux USB C to 2-Male RCA adapter cable features a gold-plated RCA connector and high-quality polished metal connectors.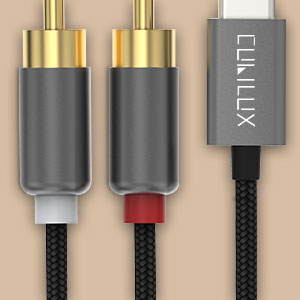 Aluminum Shell
Full aluminum alloy housing for longer lifespan and best isolation of interference.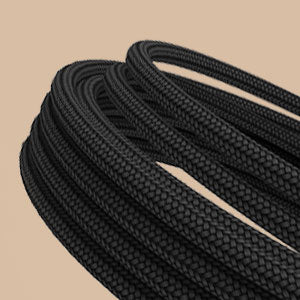 Nylon-braided cable
The Cubilux braided oxygen Free Copper wire for durability, flexibility and tangle-free.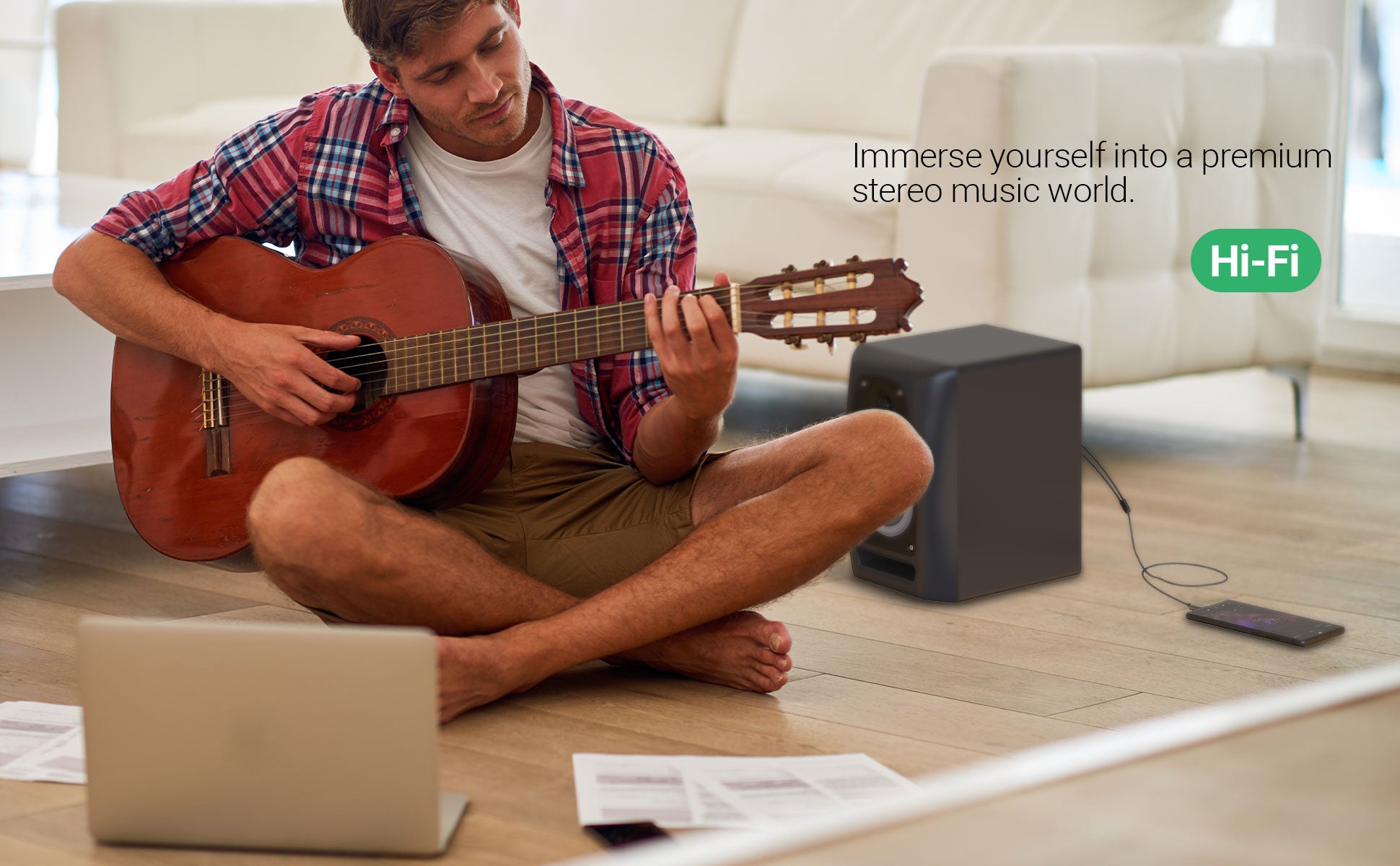 Compatible with
iPhone

 

15 Pro Max・15 Pro・15/15+

iPad

 

2022 iPad 10.9"(Gen 10th)・2022/2021/2020/2018 iPad Pro 12.9"(Gen 6th/5th/4th/3rd)・2022/2021/2020/2018 iPad Pro 11 (Gen 4th/3rd/2nd/1st)・2022/2020 iPad Air(Gen 5th/4th)・2021 iPad Mini(Gen 6)
Mac

 

MacBook Air 13"(All Version)・MacBook Pro 13"/14"/15"/16"(All Version)・MacMini (All Version)・iMac 21.5"/24"/27"・iMac Pro 27"・Mac Pro・Mac Studio

Samsung Galaxy Phone

 

S23/S22/S21/S20 Ultra・S23/S23+/S22/S22+/S21/S21+/S20/S20+・S23/S21/S20 FE・Z Fold 5/4/3/2/1・Z Flip 5/4/3/2/1・Note 20/10

Samsung Galaxy Tab

 

S9/S8 Ultra・S9/S9+/S8/S8+/S7/S7+/S6・S9/S7 FE・S5e

Google

 

Pixel 8/7/6 Pro・Pixel 8/7/6/5/4/3/2/1・Pixel 7a/6a・Pixel Fold・Pixel Tablet・Pixel 4/3/2/1 XL

Motorola(Moto)

 

Razr 40 Ultra・Razr 40・Edge 40/20 Pro・Edge 40/30/20・Edge 30 Ultra・Edge 30 Fusion・Edge 30 Neo・Z3 Play・Z3・Z2 Force・Z Force (Droid)・Z (Droid)

Oppo

 

Reno 10/9/8/7/6/5/4 Pro・Reno 10/9/8/4・Find X6/X5/X3 Pro・Find X6/X5/X3・ Find N3/N2 Flip・Reno 9/8/6/5 Pro+

Xiaomi

 

13T/13/12T/12S/12/11X/11/10/9 Pro・13T/12T/13/12S/12X/12/11X・Mix Fold 3/2/1・13/12S/11/10 Ultra・13/12/11 Lite/10
Redmi

 

K60/K50 Ultra・K60/50/K40 Pro・K60/K50/K40・K40 Pro+・K50/K40 Gaming

Nothing Phone

 

(2)・(1)

Vivo

 

iQOO 11S・iQOO Neo 8/7 Pro・iQOO Neo 8/7/6・X Fold 2/1・X Flip・iQOO 11/10/9/8 Pro・iQOO 11/10/9/8・X90S/X90/X80/X70・X90/X80/X70 Pro+・X90/X80/X70 Pro

Huawei Phone

 

Mate 60/40 Pro+・Mate 60/50/40 Pro・Mate 60/X5/X3/50/X2・Nova 11 Ultra・Nova 11/10/9/8/7 Pro・Nova 11/10/9/8/7・P60/P50 Pro・P60/P50・Nova 10/9/8 SE

Huawei

 

MatePad

 

MatePad Pro 13.2・MatePad 11.5・MatePad Air・ 2023/2021 MatePad 11・2022 MatePad Pro 11・2022 MatePad 10.4・2021 MatePad Pro 12.6・2021 MatePad Pro 10.8

Honor

 

Magic V2/VS・90/80/70/60/50 Pro・90/80/70/60/50・90 Lite・Magic 5/4/3 Pro・Magic 5/4/3・Magic 5 Lite・80/50 SE・70 Pro+・Magic3 Pro+
and more...