---
HIGHLIGHT
The right Angle USB C Headphone Dongle offers a comfortable fit for horizontal entertainment on smartphones and tablets, and gives you an immersive no-lag listening experience while playing games and watching movies

With 

192KHz/24-bit HiFi Grade DAC,the aadaptercould

restore the details of the sound and reproduce music with deeper bass, better clarity and ultra-low distortion

The integrated analog to digital converter could record 48 KHz/24-bit studio-grade audio stream, enabling crystal clear sound quality for hands-free talking

Could be used as a USB C microphone converter for TRRS lavalier clip MIC

Support In-Line MIC & Volume Control

Support Android, iPad OS, Mac OS, Windows, Linux
Cubilux Right-Angled USB C to 3.5mm Headphone Jack Adapter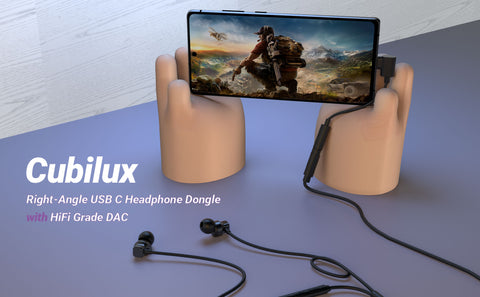 Cubilux 90 Degrees Right-Angled Headphone Adapter offers stunning audio quality as well as a comfortable holding experience for you to play games or watch movies in landscape mode.
192 KHz/24-bit Hi-Res DAC for Premium Sound Quality

48 KHz/24-bit ADC for Crystal Clear Recording Quality

Support Headphones with Impedance up to 100 Ohm

Support In-Line Volume Control

Support TRRS Microphone for Recording

Support Square and Other External 3.5mm Connective Devices

Oxygen Free Copper Wires for Lossless Audio Signal Transmission
Superior Audio Performance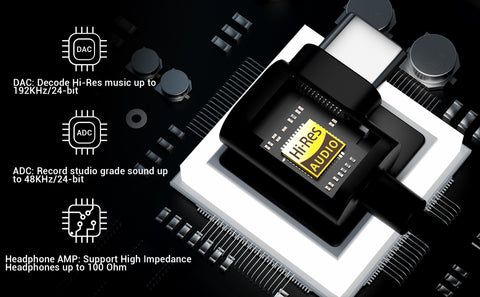 Hi-res DAC

: The built-in digital to analog converter delivers clean, natural and lossless sound up to 192 KHz/24-bit with ultra-low distortion and noise.

Headphone AMP

: Improve sound quality and drive headphones and monitors up to 100 ohm.

Wired for better Audio Quality

: Oxygen free copper wires minimize signal loss and maximize the intensity of the music.
HiFi Grade Sampling Rate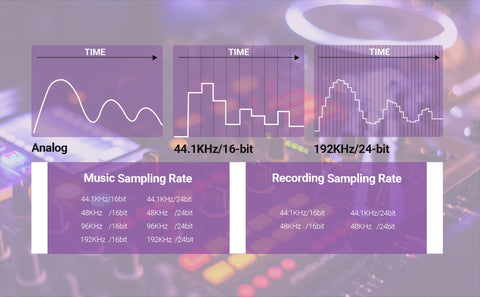 192 KHz/24-bit Music Sampling Rate

: Reproduce music with rich details and amazing clarity.

48 KHz/24-bit Recording Sampling Rate

: Ensure crystal clear sound quality for talking and recording.
Universal Compatibility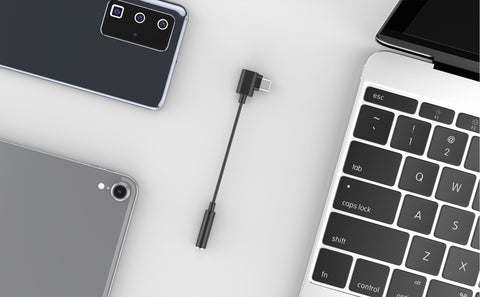 Compatible with smartphones, tablets, laptops and computers with USB Type C or Thunderbolt 3/4 port.
Compatible with
iPhone

 

15 Pro Max・15 Pro・15/15+

iPad

 

2022 iPad 10.9"(Gen 10th)・2022/2021/2020/2018 iPad Pro 12.9"(Gen 6th/5th/4th/3rd)・2022/2021/2020/2018 iPad Pro 11 (Gen 4th/3rd/2nd/1st)・2022/2020 iPad Air(Gen 5th/4th)・2021 iPad Mini(Gen 6)
Mac

 

MacBook Air 13"(All Version)・MacBook Pro 13"/14"/15"/16"(All Version)・MacMini (All Version)・iMac 21.5"/24"/27"・iMac Pro 27"・Mac Pro・Mac Studio

Samsung Galaxy Phone

 

S23/S22/S21/S20 Ultra・S23/S23+/S22/S22+/S21/S21+/S20/S20+・S23/S21/S20 FE・Z Fold 5/4/3/2/1・Z Flip 5/4/3/2/1・Note 20/10

Samsung Galaxy Tab

 

S9/S8 Ultra・S9/S9+/S8/S8+/S7/S7+/S6・S9/S7 FE・S5e

Google

 

Pixel 8/7/6 Pro・Pixel 8/7/6/5/4/3/2/1・Pixel 7a/6a・Pixel Fold・Pixel Tablet・Pixel 4/3/2/1 XL

Motorola(Moto)

 

Razr 40 Ultra・Razr 40・Edge 40/20 Pro・Edge 40/30/20・Edge 30 Ultra・Edge 30 Fusion・Edge 30 Neo・Z3 Play・Z3・Z2 Force・Z Force (Droid)・Z (Droid)

Oppo

 

Reno 10/9/8/7/6/5/4 Pro・Reno 10/9/8/4・Find X6/X5/X3 Pro・Find X6/X5/X3・ Find N3/N2 Flip・Reno 9/8/6/5 Pro+

Xiaomi

 

13T/13/12T/12S/12/11X/11/10/9 Pro・13T/12T/13/12S/12X/12/11X・Mix Fold 3/2/1・13/12S/11/10 Ultra・13/12/11 Lite/10
Redmi

 

K60/K50 Ultra・K60/50/K40 Pro・K60/K50/K40・K40 Pro+・K50/K40 Gaming

Nothing Phone

 

(2)・(1)

Vivo

 

iQOO 11S・iQOO Neo 8/7 Pro・iQOO Neo 8/7/6・X Fold 2/1・X Flip・iQOO 11/10/9/8 Pro・iQOO 11/10/9/8・X90S/X90/X80/X70・X90/X80/X70 Pro+・X90/X80/X70 Pro

Huawei Phone

 

Mate 60/40 Pro+・Mate 60/50/40 Pro・Mate 60/X5/X3/50/X2・Nova 11 Ultra・Nova 11/10/9/8/7 Pro・Nova 11/10/9/8/7・P60/P50 Pro・P60/P50・Nova 10/9/8 SE

Huawei

 

MatePad

 

MatePad Pro 13.2・MatePad 11.5・MatePad Air・ 2023/2021 MatePad 11・2022 MatePad Pro 11・2022 MatePad 10.4・2021 MatePad Pro 12.6・2021 MatePad Pro 10.8

Honor

 

Magic V2/VS・90/80/70/60/50 Pro・90/80/70/60/50・90 Lite・Magic 5/4/3 Pro・Magic 5/4/3・Magic 5 Lite・80/50 SE・70 Pro+・Magic3 Pro+
and more...