---
HIGHLIGHT
[3.5mm Headphone & Microphone Adapter] – Cubilux Audio & MIC splitter enables recording with 3.5mm microphone on smartphone, PC, tablet with 3.5mm audio jack. At the same time, it allows you to listen to your performance through headphones connected to the audio jack. The adapter is also suitable for most of the legacy headsets featuring separated headphone and microphone connectors.

[ONLY for Lavalier MIC] – Please note that the adapter is design for lavalier microphone ONLY, NOT for line-level audio input, NOT for condenser MIC, dynamic MIC, XLR MIC or any MIC that requires phantom power supply.

[Monitor Real-Time Playback] - With professional recording APPs such as "GarageBand"(iOS) and "BandLab"(Android), You can listen to whatever sound you get through your headphones and adjust accordingly to have better audio quality for your videos.

[Plug & Play] – Driverless and powerless plug and play on Windows, Mac OS, iPad OS and Android. Compatible with MacBook Pro/Air(M1), iPad, iPhone 8/7/6/5, Surface, Xbox One, PS5, PS4, Samsung Galaxy S10 S9 Note 9 and most smartphone, laptop, desktop.

[Compact & Durable] - The adapter provides a longer lifespan with aluminum alloy body and braided cable. And it is very small with only 5 Inches in length and 0.4 Ounces in weight, you can easily put it in your pocket and bring it everywhere.
Cubilux 3.5mm Headphone & Microphone Adapter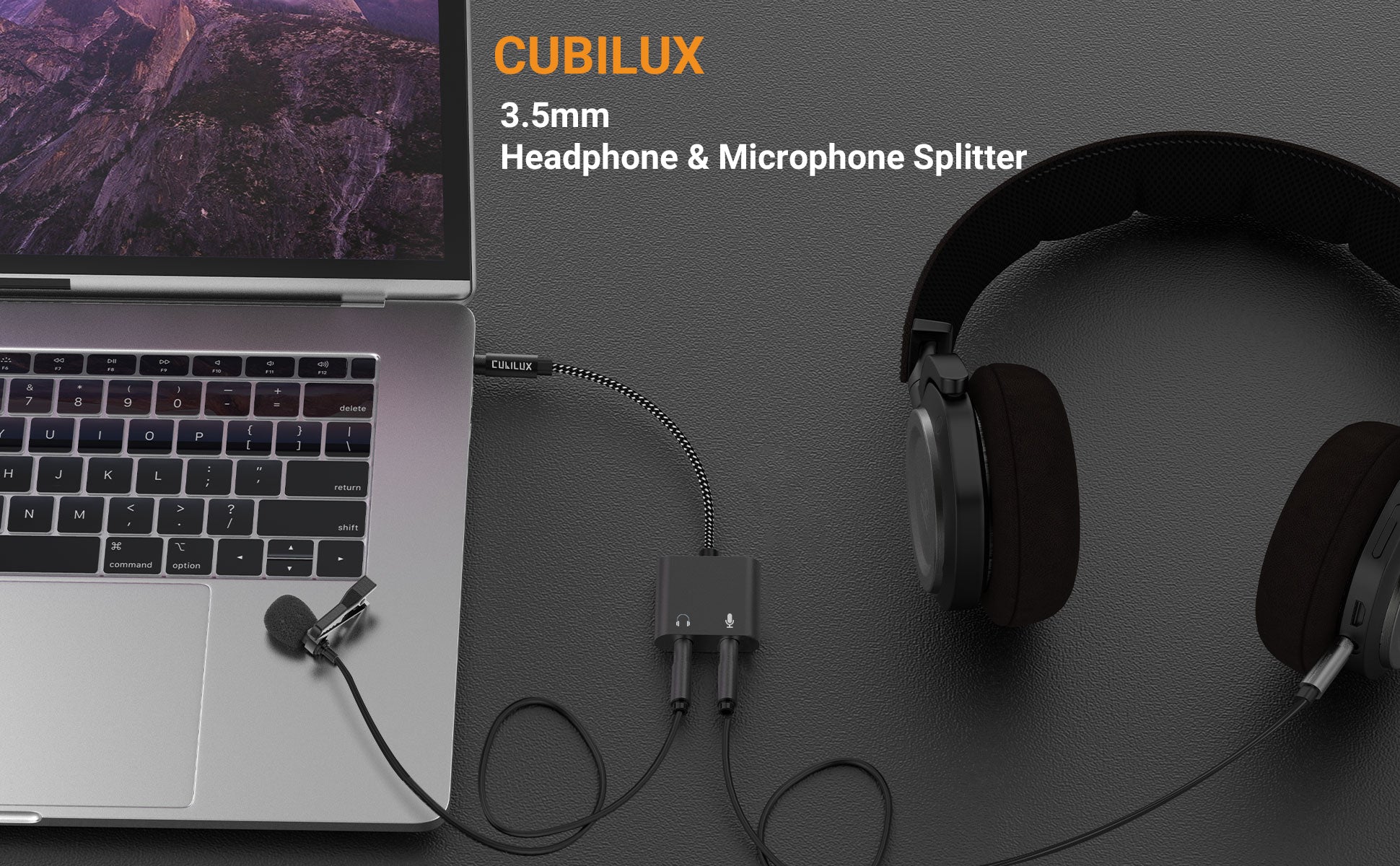 Gold-Plated 3.5MM Plug & Oxygen Free Copper Wires for Lossless Audio Signal Transmission

Fit for Legacy Headset with Separated Headphone and Microphone Plugs

Ideal for On-line Meeting and Lecturing

Easy to Storage and Carry with Compact Design

Aluminum Alloy Case and Braided Cable for Durability
Ideal for On-Line Meeting and Lecturing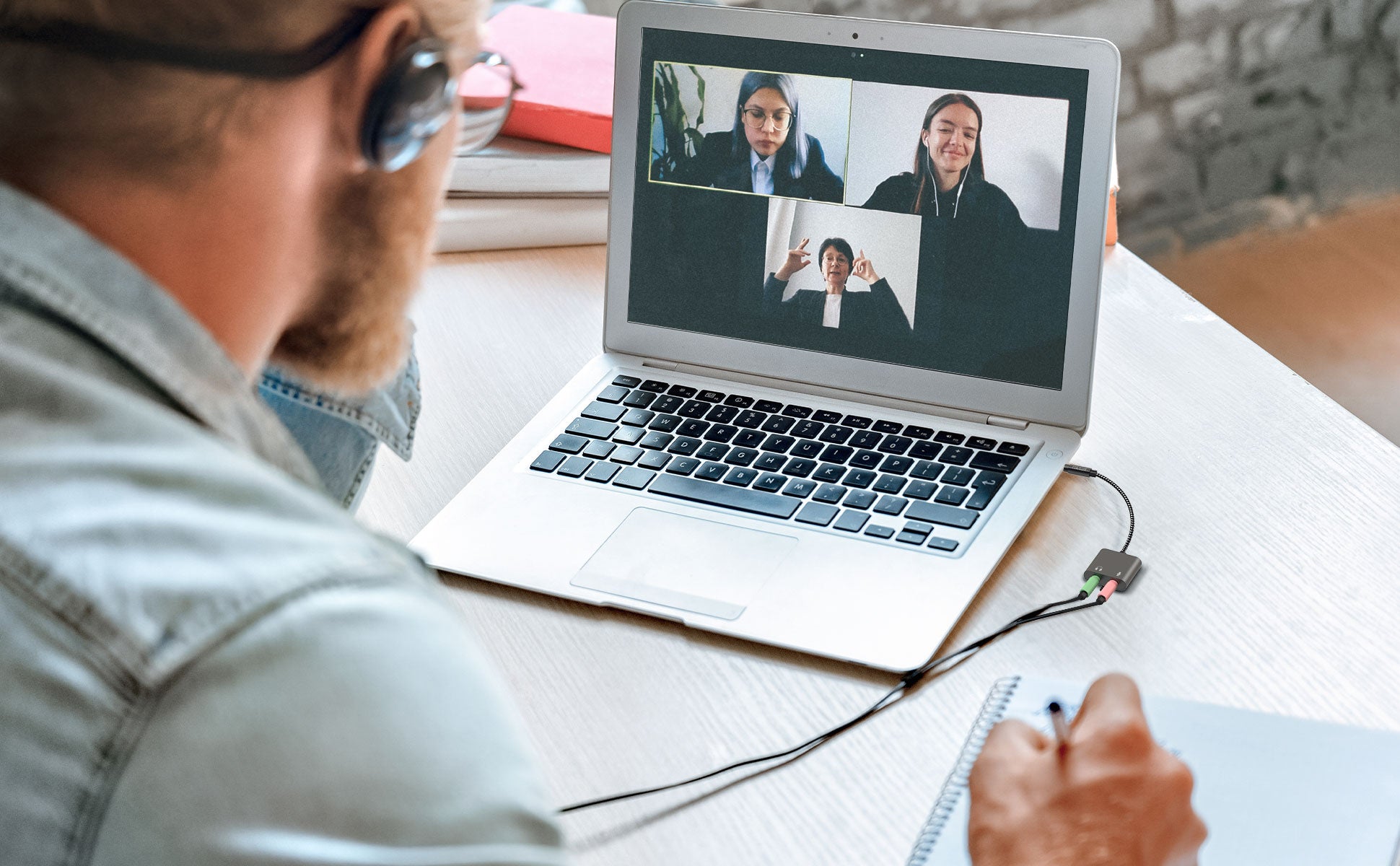 The adapter is compatible with all on-line conference APPs such as "Zoom", "Skype", "Face Time" and "Google Meet" etc.. You can use the adapter for live streaming on "Facebook" or "Instagram" or talking with your friend with "Discord" during gaming too!
Monitor Real Time Playback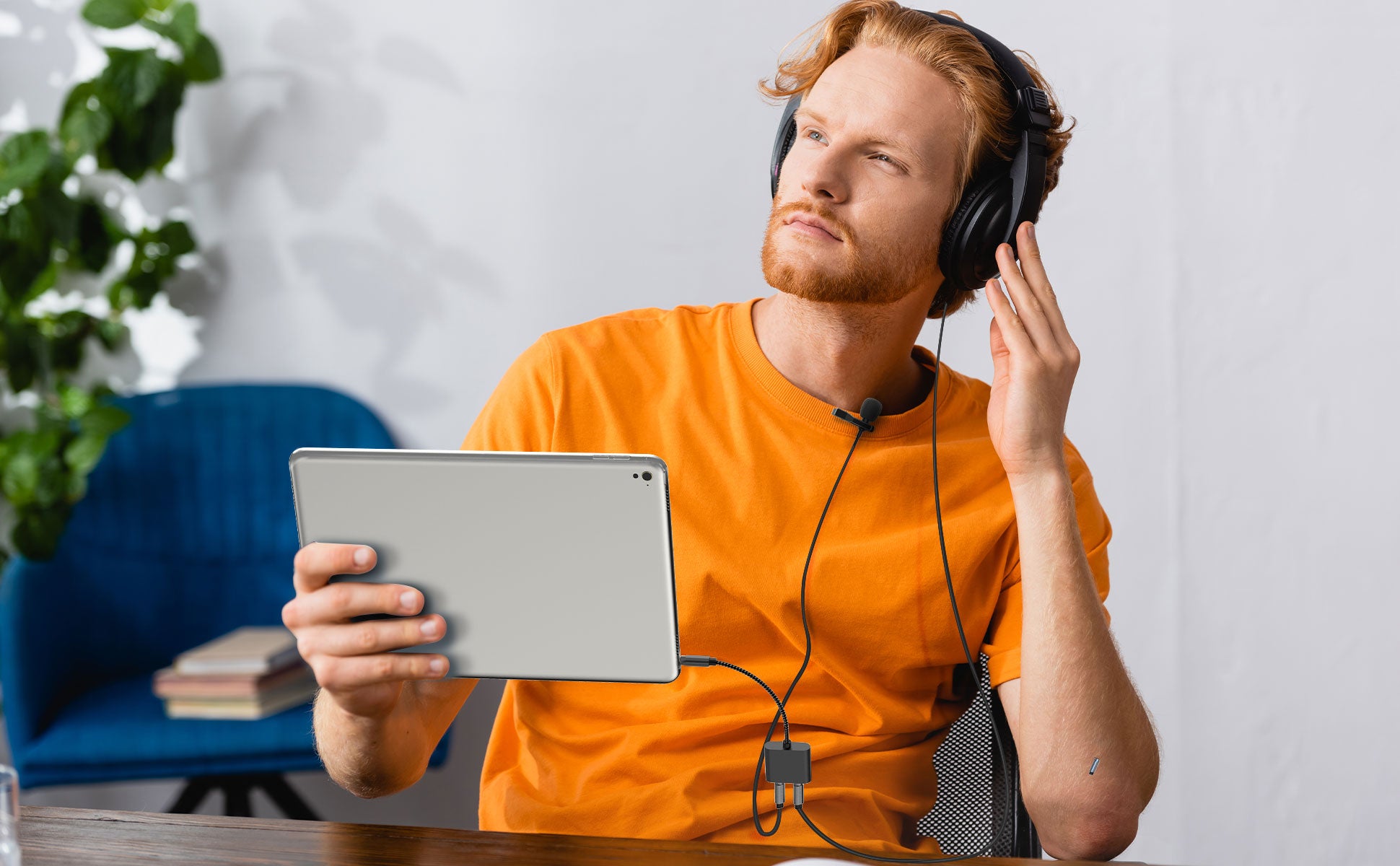 You may as well record professional audio contents for your podcast or vlog with your smartphone or tablet, and then hear your performance with headphones. You can even monitor real-time play back with professional recording APPs such as "GarageBand"(iOS) and "BandLab"(Android).
Please keep that in mind that you may not able to monitor real-time playback while recording videos since most camera app does not support monitor function.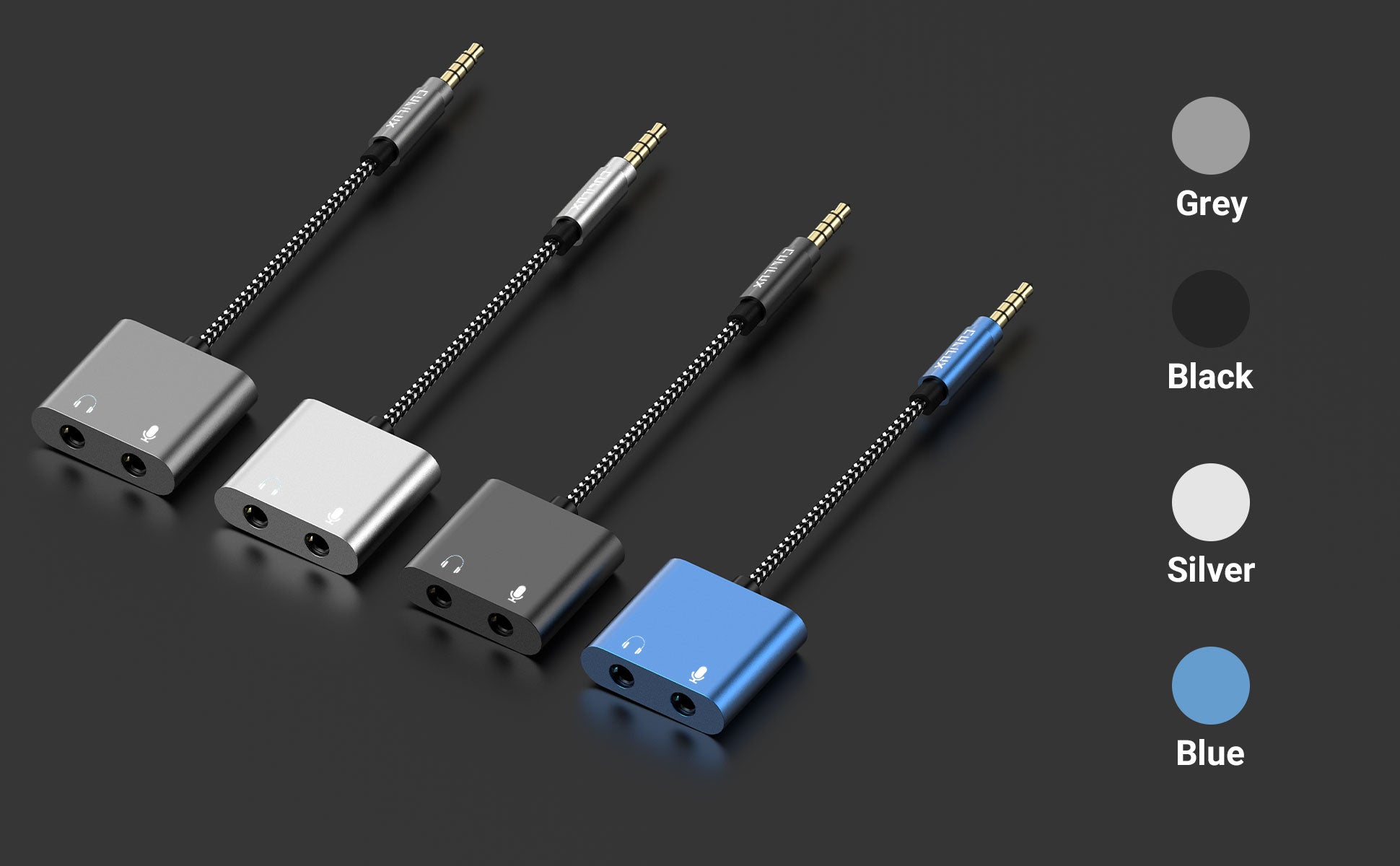 Specifications
Connection Type: 3.5mm TRRS Male to 3.5mm TRS Female Audio Output and 3.5mm TRS Female Microphone Input

Length: 4.7 inches

Material: Aluminum Alloy, Nylon Braided Cable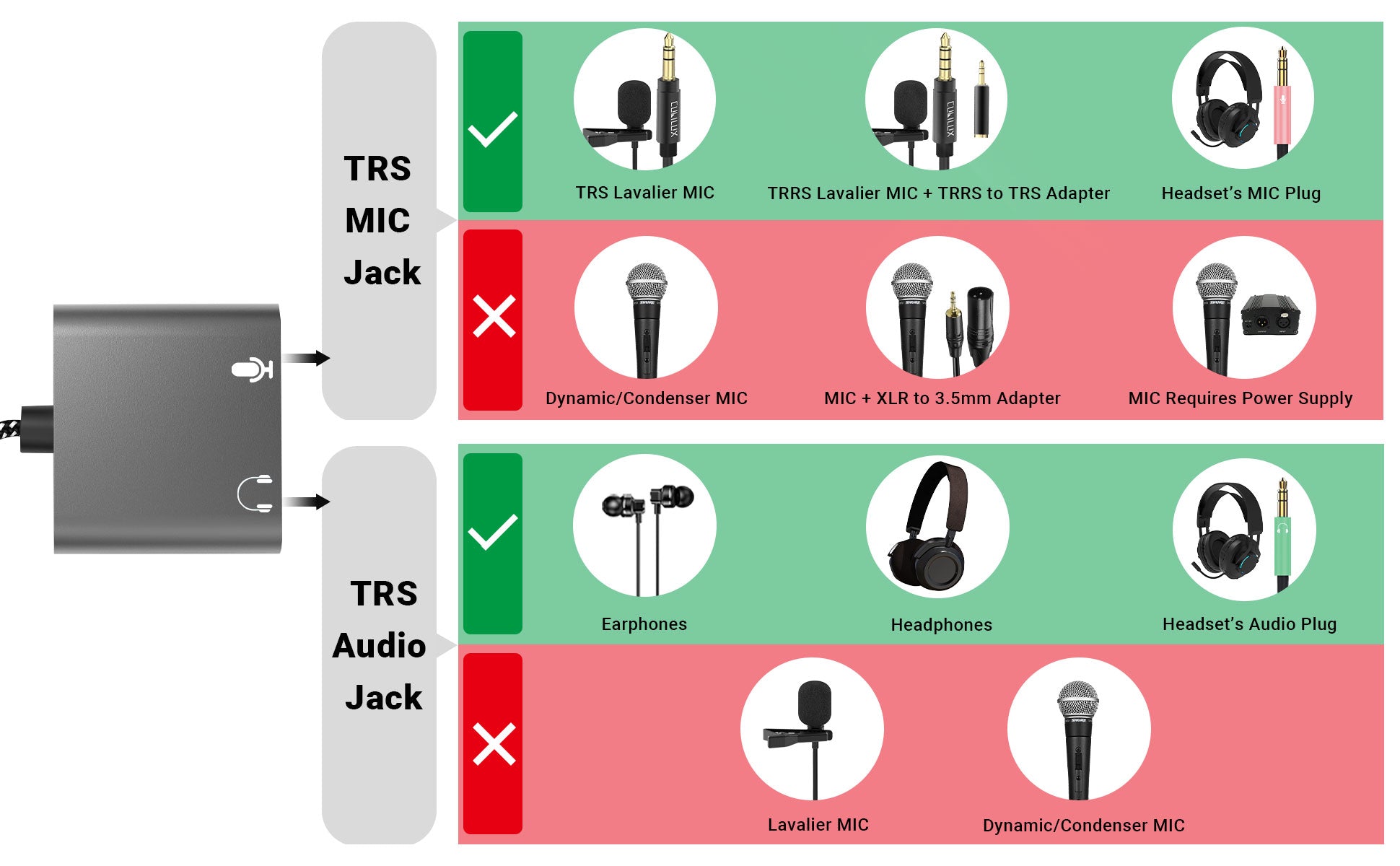 The adapter is

 

ONLY

 

for

 

TRS

 

or

 

TRRS

 

(with converter) lavalier microphone and does

 

NOT

 

support

 

Condenser MIC

,

 

Dynamic MIC, XLR MIC

 

or any MIC that requires

 

Phantom Power Supply

.
The adapter does

 

NOT

 

support line-level audio input.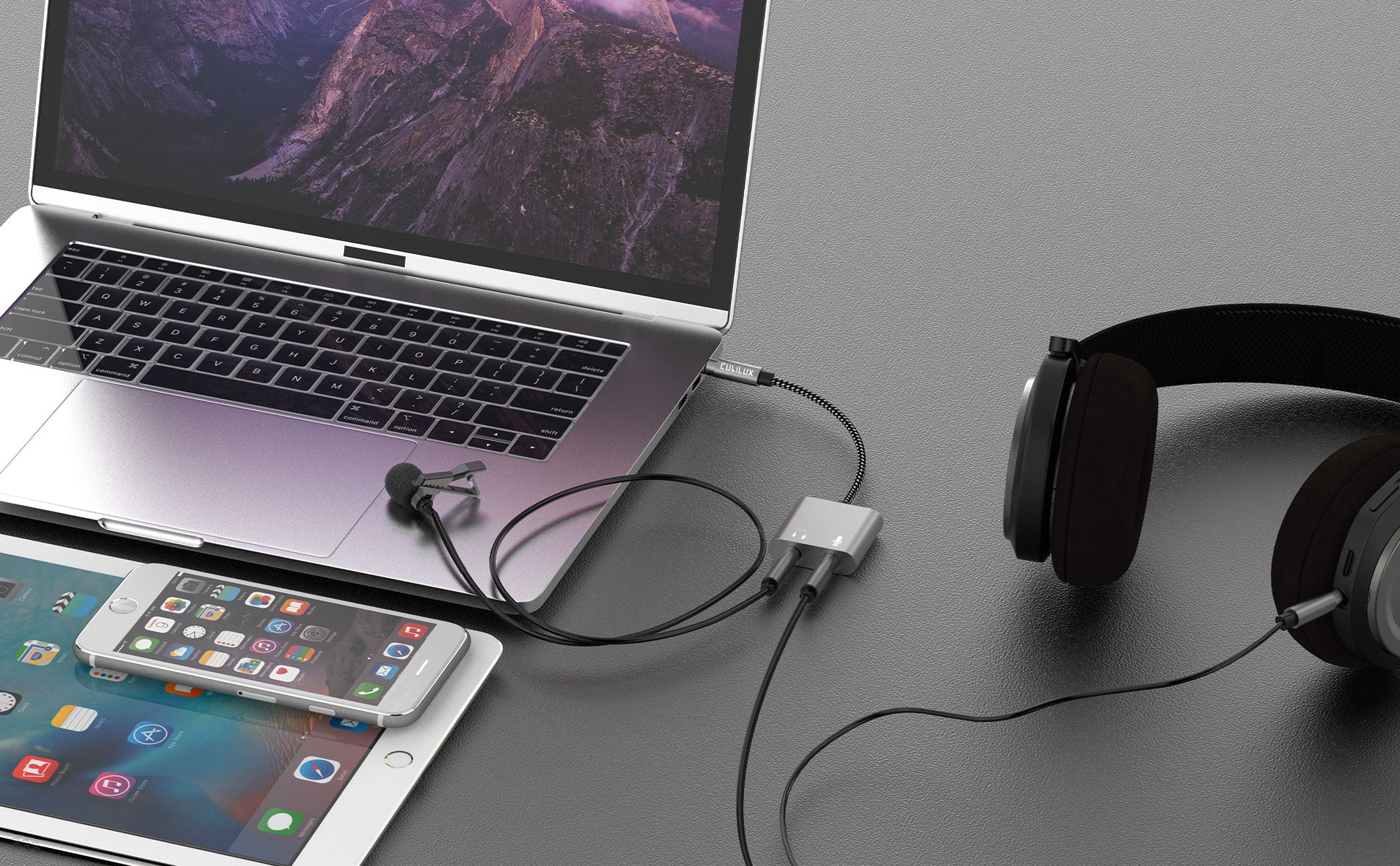 Works on Windows, Android, Mac OS and iOS. Compatible with most smartphones, tablets, laptops and computers with 3.5mm combo audio jack.
For

 

iPad

 

iPad 8th/7th/6th/5th/4th/3rd/2nd/1st 10.2"・iPad mini 5th/4th/3rd/2nd/1st・iPad Air 3rd/2nd/1st・iPad Pro 2nd/1st
For

 

iPhone

 

iPhone SE・iPhone 6s/6s Plus・iPhone 6/6 Plus・iPhone 5s・iPhone 5c・iPhone 5
For

 

Mac

 

MacBook Pro M1・MacBook Pro 2020/2019/2018/2017/2016/2015・MacBook Air M1・MacBook Air 2020/2019/2018/2017
For

 

Samsung

 

Galaxy A Quantum・A01・A01 Core・A10・A10e・A10s・A11・A12・A2 Core・A20・A20e・A20s・A21・A21s・A30・A30s・A31・A32 5G・A40・A41・A42 5G・A50s・A51・A51 5G・A70・A70s・A71・A71 5G・A71 5G・F41・J2 Core (2020)・M01・M01 Core・M01s・M02s・M10・M10s・M11・M20・M21・M21s・M30・M30・M30s・M31・M31 Prime・M31s・M51・Note10 Lite・S10+/S10 (5G)・S10e・Tab A 10.1 (2019)・Tab A 8.0・Tab A 8.0 (2019)・Tab A 8.4 (2020)・Tab A7 10.4 (2020)・Tab Active Pro・Tab Active3・Tab S6 Lite
For

 

Google

 

Pixel 3a XL/3a・Pixel 4a (5g)
For

 

Oneplus

 

Nord N10 5G・Nord N100
For

 

Motorola

(Moto) Edge+/Edge・G 5G+/G 5G・G Fast・G Play (2021)・G Power・G Power (2021)・G Pro・G Stylus・G Stylus (2021)・G6+/G6・G7 Play・G7 Power・G7+/G7・G8 Play・G8 Power・G8 Power Lite・G8+/G8・G9 Play・G9 Power・G9+/G9・One・One 5G・One 5G Ace・One Action・One Fusion+/One Fusion・One Hyper・One Macro・One Power・One Vision+/One Vision・One Zoom・Z Play・Z2 Play・Z4
For

 

HTC

 

Desire 12+/12/12s・Desire 19+/19s・Desire 20 Pro/20+・Desire 21 Pro 5G・Exodus 1s・U12 life・Wildfire E・Wildfire E1/E1 Plus/E1 lite・Wildfire E2・Wildfire R70・Wildfire X
and more......